Thank you to all front-line workers during this time.
CAA Manitoba's care for Members and the community didn't stop during the pandemic.
Many Manitobans have come to rely on CAA, whether they find themselves stranded on the highway or shopping for travel insurance to escape winter's chill. While COVID-19 has taken many cars off the road and grounded most flights, CAA Manitoba remains committed to the community.
After being deemed an essential service, CAA Manitoba leveraged our fleet and contractor network of trucks to deliver vital supplies—such as PPE to hospitals and frontline workers, plus medication and food—where it was urgently needed.
Working with organizations such as Meals on Wheels, Winnipeg Harvest and Shoppers Drug Mart, over 332 separate deliveries were completed within two months, the biggest being six full pallets of food to Calvary Temple's food bank.
"CAA is a care-driven company, built on making a difference in the community," says Tim Scott, president of CAA Manitoba. "We immediately took action and shifted our priorities to give back to our community—and help those that needed it the most."
CAA also continued to use our trucks for their primary purpose—roadside assistance—offering it free of charge to frontline first responders and healthcare workers, regardless of whether they were Members. From nurses needing a boost to paramedics stranded on the side of the road, more than 120 service calls were completed.
"Manitobans always work together in times of crisis and COVID-19 has been no different," says Heather Mack, CAA Manitoba's manager of government and community relations. "It is immensely gratifying to see government, business and the non-profit sector all working toward one common goal: keeping us safe and healthy."
Not all of CAA Manitoba services, however, took place in person. When the pandemic forced people into their homes, many seniors found themselves isolated. CAA Manitoba launched Operation Outreach, a social wellness program that checked in on Members over the age of 75.
More than 13,000 Manitoba seniors were dialed and given the option to chat with a live CAA agent who connected them with vital services, taught them how to use their computer to order groceries, or simply chatted with them. Of those people who "pressed one" to talk, many expressed their gratitude for the kindly connection.
While the world will undoubtedly change after the pandemic, CAA Manitoba's commitment to our Members and our communities will remain constant.
---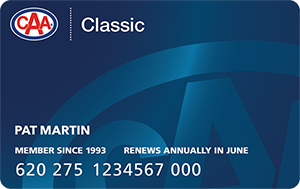 Don't have a membership?
Compare benefits of our memberships to see which works best for you.