Tell Us Your Rewards Story Winners
Congratulations to the winners!
CAA Members are taking advantage of the CAA Rewards® program to save money and earn valuable CAA Dollars® in many ways. Thank you to the many Members who entered our "Tell Us Your Rewards Story" contest. Kerilyn Zelinski won our grand prize: a travel package valued at over $4,000! Twenty other members won their choice of a $50 The Ultimate Dining Card® or a $50 DOMO gas certificate. When you read their stories, we hope you are inspired to shop with our CAA Rewards Partners to earn and save. Start creating your own CAA Rewards stories today!
Tell Us Your Rewards Story Winners.
Click on the winners' names to view their CAA Rewards stories.
Kerilyn Zelinski


Scored Moose tickets.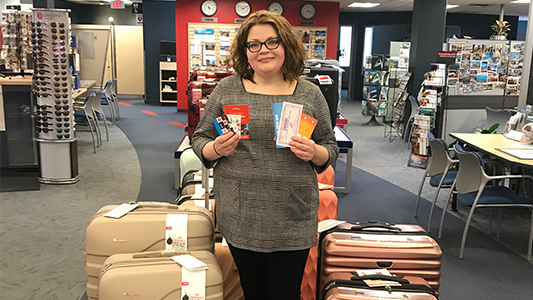 My family are true Winnipeggers and of course we root for our hometown teams! My three children (aged 10, 8, and 7) had been asking to go to a professional hockey game. As a single parent, I have to make careful decisions about how I spend money, especially when it comes to entertainment. I had to say "no," multiple times. I was sad because I wanted to give them that type of experience. I was on the CAA website one day to enter a contest and came across information about CAA Night at a Manitoba Moose game! I was able to purchase tickets at an incredible price. The kids were so excited! Before we left for the game, they put their birthday money into their pockets so they could purchase popcorn and drinks at the arena. Dressed in hand me down jerseys and toques, we found our seats, which were in row 8 at centre ice. Perfect! The kids loved the energy of the game and the kid-friendly atmosphere was contagious. By the end of the game they were dancing and trying to see their faces on the big screen. At the end of the game we stayed to be part of the photo of CAA members on the ice. The kids thought it was so cool (no pun intended) to be on the ice where the hockey players had just been flying around! A highlight of the night was having their photo taken with Mick E. Moose. Thank you CAA for such a fun experience! We will be able to attend another game this season because of the fabulous member discount.