The dunes of Spirit Sands in Spruce Woods Provinical Park.
Dave Reede
Manitoba day trips that prove you don't have to go far to have a good time.
Lucky are those Manitobans with backyards, especially while sheltering at home! As we venture back out into the world, Canadians have come to appreciate our yards, decks and balconies—but we're itching for more. Road trips are the perfect close-to-home option when you need a change of scenery, cultural enrichment and great food. Gas up for one of these provincial getaways: They'll get you back home before bedtime.
Morden.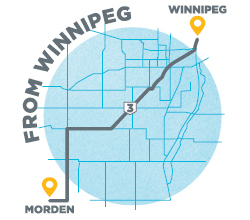 Though Morden's annual Corn and Apple Festival has been cancelled this year, you might not miss it with all the other offerings in town. Well, no: You will miss drinking fresh cider and line dancing at the harvest celebration, so come back next year when the festival returns. But now is the time to check out some other diversions.
Make your first stop the Canadian Fossil Discovery Centre. Hang out with Bruce, a Guinness World Record-holding mosasaur with three sets of terrifying teeth. Then say hi to a few of his buddies from the late Cretaceous period of earth's prehistory. The museum also boasts the largest collection of marine reptile fossils in Canada. Local schoolkids often go on fossil-hunting field trips—outings so popular that the museum now offers them to regular visitors. You're practically guaranteed to dig up a fossil!
For a slightly more modern experience, head to the Pembina Hills Arts Centre, located in a former post office with a centuryold mechanical clock. Try to "time" your trip for when the grand timepiece is being wound.
If history isn't your thing, get outdoors with a sandy trail walk along Colert Beach, play a round of golf or take in beautiful views over lunch at the course's clubhouse. And there's only one place to properly end your day in Morden: the Stardust Drive-in. The nostalgic open-air movie meccas made a comeback during the pandemic, and the Stardust is one of only two still operating in Manitoba. Along with feature films and classics, the theatre is known for its retro treats and only-in-Manitoba snacks, like blueberry perogies.