CAA Monthly Pay.
Sign up today with credit card or pre-authorized debit.
Learn More
Membership is more than roadside assistance.
Discover all the benefits of being a CAA Manitoba Member.
Become a Member
Give the gift of CAA.
Give the gift of a CAA Membership and we'll give a free gift to you!
Learn More
Making bad days good. And good days better.®
With a CAA Manitoba Membership, you have access to benefits and services exclusive to CAA Members. From our renowned roadside assistance and travel agency to CAA Rewards® and property insurance, we're there for you whether you're at home or on the road. Whether you drive a little or a lot, CAA offers a range of benefits to suit your needs and lifestyle.
Plus
Perfect for commuters, and those who love to travel.
Join Now
RV option for $52/year more
Member stories.
Lawrence from roadside emergency services helped me with my old Jeep. It didn't want to start, despite being boosted. Lawrence pulled his hammer out and said sometimes the starter motor pinion gets stuck. Sure enough...vrooom. First try. He followed me home, gave me a ride back to pick up my other car, gave me a cookie and what is the most helpful is the new trick I learned to keep my 30-year old Jeep running. I couldn't be happier with the roadside assistance. Thank you!

Member Donny,

November 14, 2019

My daughter had to contact CAA with two blown tires. My daughter was distraught and scared. The driver who came out was extremely kind, his manner and words effectively calming and encouraging in a scary situation. When I arrived he greeted me, gave me a quick low-down, and likewise calmed my own anxiety. He is a gem! New drivers are easily spooked by things like this, and he was spot on with his conversational tone and comforting words. I hope he is appreciated!

Member Michelle,

August 30, 2019

Dear CAA, I am writing to express my gratitude for the quick and efficient help I received last evening when my car failed to start. The tow truck operator was knowledgeable, compassionate and professional. I was very impressed! Thanks for the great work that you do.

Member Janet,

July 10, 2019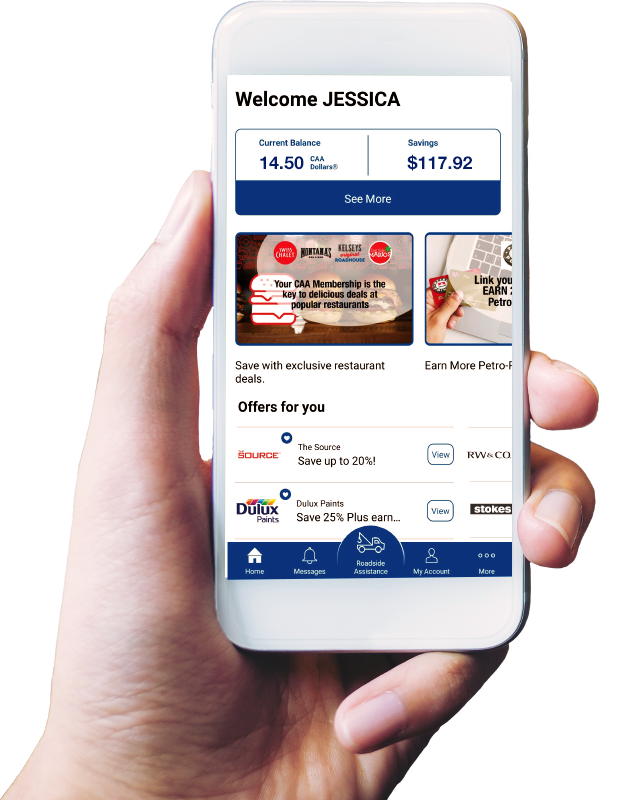 CAA everywhere you go.
Get Roadside Assistance anytime with the CAA App. Track your service call in real-time with a simple click. All the CAA features you know and love online, in the palm of your hand.
Available for iPhone, Apple Watch, and Android.
CAA Mobile App