Whether you're working from home or hanging out with the family, we know you've got better things to do than spending your time getting your tires changed.
CAA Mobile Tire Change service provides Members with a hassle-free and safe experience. Members enjoy convenient, at-home seasonal tire changes performed by expert technicians.
Why choose CAA Mobile Tire Change?

Your time, your place
Our service is available seven days a week. Book your appointment window in advance and we'll come to you. 

Save time and effort
No heavy lifting required: our expert technicians do the work while you go about your day. 

We put safety first
Our expert technicians can provide a complimentary battery test1 to help you stay in charge of your car's battery performance.
CAA Mobile Tire Change pricing.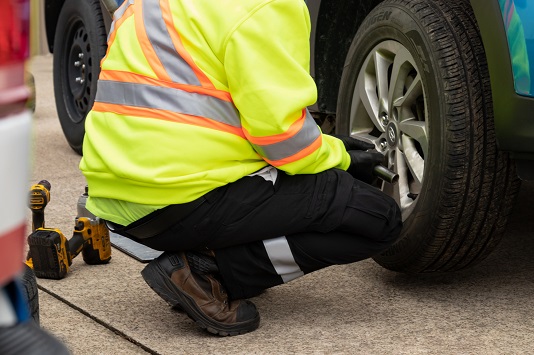 Safety first.
Our expert technicians are trained and equipped to provide service quickly and safely.
What you need to know before you book your appointment.
This service is available to active CAA Members in Winnipeg and Brandon from October 2 to November 15, 2023.


This service can only be performed on cars, SUVs and trucks up to 3/4-ton. We cannot service commercial vehicles, trailers, RVs or campers.


Your tires must be mounted on rims and be easily accessible to the technician.


This service is only available on residential driveways. There needs to be adequate space on all sides of your vehicle for the technician to work safely and your driveway must be clear of debris, ice and/or snow.


If your tires have locking lug nuts, please ensure the key is available.


It can take up to 90-minutes for a single set of tires to be changed.


The technician will reset the tire sensors before completing the service as long as the set that is being installed has sensors.


CAA recommends retorquing your wheels within 100-150km following the mobile tire change service.


The price of the tire swap (dependent on the CAA Membership level) plus tax is immediately due at the end of your appointment. Our technicians will accept major credit cards and debit. An invoice will be provided for your records. The Member must remain on-site for the duration of the service. For the multi-vehicle discount, there is a maximum of two tire swap services per household per day. The appointment bookings must be back-to-back sessions. One $20 discount per membership.
Frequently asked questions.
Book an appointment with CAA Mobile Tire Change service.
Select your region below, pick a date and choose from a morning or afternoon time slot:
Monday: 12 p.m. - 5 p.m. (Afternoon)
Tuesday - Sunday: 8 a.m. - 12 p.m. (Morning) or 1 p.m. - 5 p.m. (Afternoon)
If you need assistance booking your appointment, call 1-833-534-2148.
Not a CAA Member yet? Join today!