Property Insurance
Get the right insurance for your home with CAA Manitoba Insurance Brokers.
Insurance shouldn't be complicated.
You love your home and want to protect it. Whether you are looking for coverage for your house, condo, rental unit, or seasonal property, it is important to review your policy to ensure you have the right coverage for your needs. CAA Manitoba Insurance Brokers can help!
Our brokers are committed to helping you find the best coverage for your needs from the insurance provider that's right for you.
You don't have to be a Member to get insurance with CAA Manitoba Insurance Brokers, but Members do enjoy special perks and can save up to 10% off home insurance1. So get a complimentary quote and speak to a broker to discuss the different ways you could be saving. Don't forget, we can assist with your Autopac and driver licensing as well!
Contact a CAA Manitoba Insurance Broker today at 204-262-6065.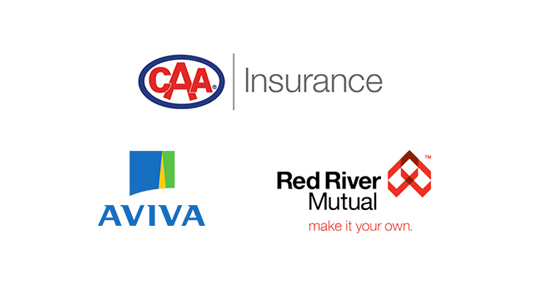 Our insurance partners.
We offer insurance products from the following partners: Aviva, Red River Mutual and CAA Insurance Company.
Our brokers can provide advice on the products and benefits of our insurance partners, and which company would best suit your needs.
CAA Insurance Rate Reduction.
During this challenging time, we are pleased to share that one of our partners, CAA Insurance Company, has implemented a 10% rate reduction for CAA Home Insurance policies. This rate reduction will be applied for the full policy term and is combinable with any other savings such as the CAA Member savings2. You can learn more about this rate reduction on our FAQ page.
Existing CAA Home Insurance policyholders can apply for this rate reduction online, please do so here.
What coverage is available?
Have more questions? Get a complimentary quote.
Call a CAA Manitoba Insurance Broker today for a free, no-obligation quote at 204-262-6065, or toll-free at 1-855-779-0677.
Get an online quote.
Before you get started with an online quote, here's what you need to know:
Your quote may show multiple options and prices, this is because we are providing quotes from our different insurance partners. Remember not to focus only on the price, as there might be differences in the coverage. It is always best to speak with a broker to understand the options available and which coverage would be the best fit for your needs. Note: the 10% Rate Reduction on CAA Insurance is incorporated into one of the quote options that you will see.
Get a Quote
Property insurance learning centre.
Buying home or property insurance for the first time can be a daunting experience, because there can be so many choices and there's a lot to understand.
Here you'll find articles, tips and resources to help you get the most out of your insurance, and help you protect the people and things you care about the most.