Property Insurance
Get the right insurance for your home with CAA Manitoba Insurance Brokers.
Insurance shouldn't be complicated.
You love your home and want to protect it. Whether you are looking for coverage for your house, condo, rental unit, or seasonal property, it is important to review your policy to ensure you have the right coverage for your needs. CAA Manitoba Insurance Brokers can help!
Our brokers are committed to helping you find the best property coverage from the correct insurance provider. We can discuss your needs and ensure you are taking advantage of any potential savings.
CAA Members can save up to 10% on home insurance policies with CAA Insurance Company.1
Our brokers would be happy to discuss additional discounts, such as: claims-free discount, mature discount, mortgage-free discount, monitored alarm discount, and more that may be available to you.
Why not allow us – Canada's Most Trusted Brand* – to take care of your most valuable assets. Let's make sure you have the right home insurance coverage at the right price.
Our CAA Manitoba Insurance Brokers are open.
Prior to visiting us in store, we encourage you to call us to make an appointment to meet with a broker at any of the following locations.
Masks or face coverings are recommended in our stores.
We also continue to offer services Monday - Friday via phone at 1-855-779-0677 during brokerage business hours.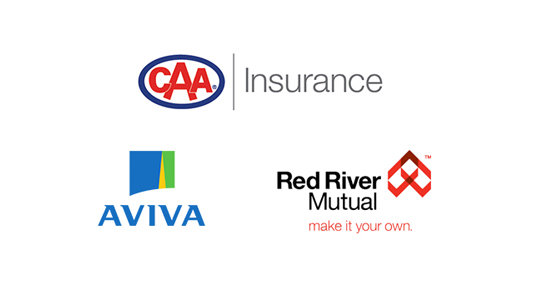 Our insurance partners.
We offer insurance products from the following partners: Aviva, Red River Mutual and CAA Insurance Company.
Our brokers can provide advice on the products and benefits of our insurance partners, and which company would best suit your needs.
What coverage is available?

Have more questions? Get a complimentary quote.
Call a CAA Manitoba Insurance Broker today for a free, no-obligation quote at 204-262-6065, or toll-free at 1-855-779-0677.
Get an online quote.
Before you get started with an online quote, here's what you need to know:
Your quote may show multiple options and prices, this is because we are providing quotes from our different insurance partners. Remember not to focus only on the price, as there might be differences in the coverage. It is always best to speak with a broker to understand the options available and which coverage would be the best fit for your needs.

Get a Quote


Emergency Travel Medical Insurance.2
Emergency Travel Medical Insurance is now included with CAA Property Homeowner policies.3 Coverage is underwritten by CAA Insurance Company.
This insurance provides coverage for medical emergencies when travelling. Benefits of up to $5 million will be paid for eligible expenses incurred following an emergency resulting from a sudden accident, sickness or injury which occurs on a trip. The maximum number of days is 4 days per trip outside of Canada and up to 365 days for trips entirely within Canada. Review your property homeowner policy for coverage details and click here for the terms and conditions.
Property insurance learning centre.
Buying home or property insurance for the first time can be a daunting experience, because there can be so many choices and there's a lot to understand.
Here you'll find articles, tips and resources to help you get the most out of your insurance, and help you protect the people and things you care about the most.