Government Relations
CAA Manitoba is the voice of more than 200,000 Manitobans.
That's 25 per cent of all drivers in Manitoba.
We are obsessed with Member safety.
From our earliest days, CAA has been a leader in presenting our Members with the latest and best information, and representing their needs and interests. We group our current education and advocacy efforts under five pillars — safety, environment, mobility, infrastructure and consumer protection. CAA Manitoba takes these issues very seriously, and regularly communicates with municipal and provincial governments about these issues.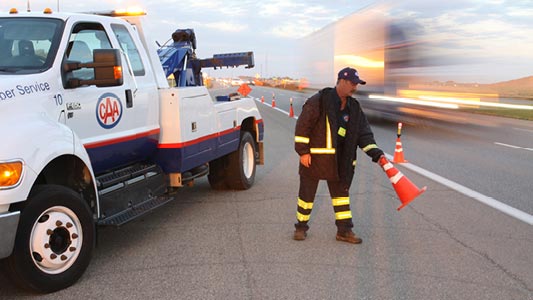 We have been instrumental in pushing for new or improved legislation, like our Slow Down, Move Over campaign, all-inclusive pricing for travel advertising and lowering speed limits in school zones. The power of our voice can be heard throughout Manitoba – in schools, industry, business and government.
We've lobbied for better roads and drivers' rights and we continue those campaigns today, as well as speaking out on behalf of all travelers and consumers alike.

Manitoba's Worst Roads.
Poor road conditions lead to thousands of collisions, injuries and deaths each year. CAA's annual Worst Roads campaign asks drivers, cyclists, transit riders and pedestrians to identify the roads that need the most improvement. Let's work together to bring attention to the worst roads in our communities. 
Learn More

Slow Down, Move Over.
CAA Manitoba first lobbied the government in 2009 asking them to create a law to protect people who work on the sides of our roads and highways. These include professions such as tow truck drivers, construction workers, and emergency personnel.
Learn More