Dine on savings with CAA Rewards®.
CAA Rewards' Dining Partners are cooking up some exciting offers for CAA Members. If you're a CAA Member, you can save at select restaurants by swiping your CAA Membership card.

Check out these great mobile app/takeout and dine-in offers.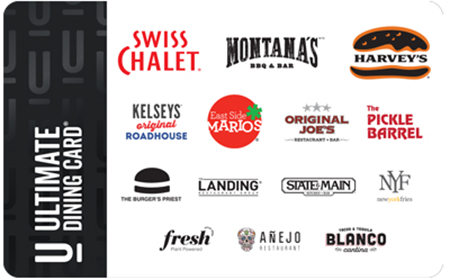 The Ultimate Dining Card.
Save 5% on The Ultimate Dining Card®, plus get free standard shipping when you buy online. Enter your CAA card number at checkout.*
View Offer
Frequently asked questions.
Which locations are included in this program?
Currently, these offers are available at the local restaurants listed above as well as at participating New York Fries, Swiss Chalet, Harvey's, Montana's and East Side Mario's restaurants across Canada.