CAA Battery Service™
Let us come to you! CAA's Mobile Battery Service¹ will test, replace and recycle your old car battery from your home, workplace or even from the side of the road. Delivery and installation are included at no additional cost.
Battery Not Found
Battery Assist™ is available in Winnipeg & Brandon only – if you live in these areas, call 1-866-740-6421 to have your battery delivered & installed.
Request new quote
Battery Not Found
Battery Assist™ is available in Winnipeg & Brandon only – if you live in these areas, call 1-866-740-6421 to have your battery delivered & installed.
Request new quote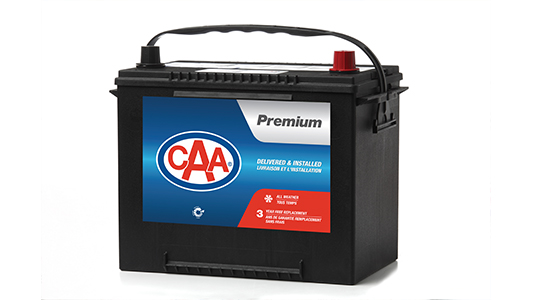 CAA Premium Battery.
A car battery lasts between three and five years on average, and often dies without much warning. CAA Manitoba offers FREE on-the-spot battery testing, delivery and installation to help Members avoid the inconvenience of a dead battery before it happens or to assist you when it does happen. Plus, Members can save up to $100 in testing, labour and service costs compared to a garage.
CAA Batteries are high quality and backed by a 72-month warranty including FREE replacement in the first three years. (Some exceptions apply.)
Your battery benefits include:

A 6-year warranty
CAA Premium Batteries are backed by a 6-year total warranty. If the battery fails within the first three years, you will receive a free replacement. After three years, you are protected by our prorated guarantee. For full warranty details, click here.

CAA Members save $25
CAA Members save $25 on the purchase of a new CAA Premium Battery². If your vehicle has problems starting, Members can request their battery be tested at any time using one of their Roadside Assistance² service calls.

Delivery and installation are included
After you have had your battery replaced by CAA, our mobile Battery Service will properly and responsibly dispose of your old battery at no additional cost to you3.
How do I get a battery?
CAA Battery Service is available as an emergency service.
Battery testing and installation is available for CAA Manitoba Members in Winnipeg and Brandon areas only. (Please note that during high call volume periods CAA Battery Service may be boost and go only.) For emergency service, call:
In Winnipeg: 204-262-6000
In Brandon: 1-800-222-4357
Battery boosting
Need a battery boost? Each CAA Membership level features free battery boosting or testing. Towing provision will apply if vehicle cannot be started.
Note: You must be at or near your vehicle when the driver arrives. In order to receive service, the roadside service provider will also need to see your photo ID.
Member pricing
All CAA Members are eligible for lower Member pricing on CAA Batteries.
Not a Member?
You can Join CAA Online, or call us at 1-800-JOIN-CAA (1-800-564-6222).
Battery maintenance tips.
A number of factors will affect the performance of your battery including extreme heat, extreme cold, age and the number of electronic options on your vehicle powered by the battery. Here is some helpful information about batteries:
Repeated attempts to start your vehicle in freezing temperatures can be especially harmful. This type of discharge will cause the battery to freeze, the plates to touch, and the battery to short out.
Never store defective batteries or dispose with regular garbage. Batteries contain hazardous materials. Call CAA Battery Service for information about proper disposal.
Visually inspect the battery on a regular basis to ensure the top is clean and dry. A buildup of white powder (corrosion) on the battery can block the flow of electrical current and needs to be cleaned. Call CAA Battery Service and we will clean the battery while testing it.
Check your battery and charging system seasonally. CAA Battery Service can do a "load test" to ensure your battery is generating a sufficient charge on below–freezing days. If it fails the test, replace the battery.
Caution: When working with vehicle batteries, always ensure you are using protective eyewear and hand wear!
Poorly fitted or undersized batteries can cause serious harm to a vehicle's electronic system and lead to costly repairs. Ensure you have the right battery for your vehicle by calling CAA Battery Service when it's time for a replacement.
The average life span of most batteries is about four years, depending on weather, usage, etc. If your battery is more than four years old, have it tested.