Tips for sharing the road safely.
As more Manitobans rely on both cars and bikes to get around, we all need to do our part to share the road safely.
There are important things to know to keep you safe while cycling on Manitoba's streets and highways.
It is the law that individuals under the age of 18 are required to wear a helmet while cycling.
Wear bright colours and reflective clothing while cycling so that you're visible to motorists – this is extremely important to remember if you're cycling at night
The law requires all bicycles to be equipped with a white light reflector at the front of your bike and a red or amber reflective light at the back
Remember that you share the road with motorists so be sure to use proper hand signals to indicate your direction
If you are coming up behind a pedestrian be sure to use verbal cues indicating which side you are passing them on and attach a bike bell and give a warning ring when approaching
Make sure that you're aware of your surroundings and are visible to motorists
Do not weave in and out of traffic
Travel with traffic near the edge of the curb
Utilize bike paths whenever possible
Obey the traffic signals and lights
Ride single file when cycling with others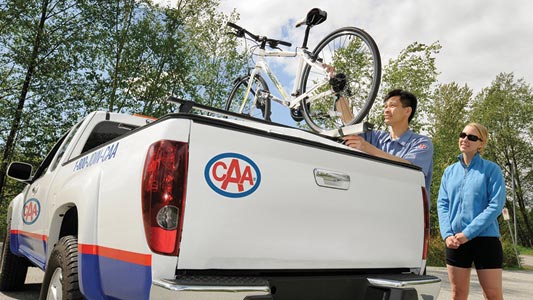 What is CAA Bike Assist?
CAA Bike Assist is roadside assistance for your bicycle. If you run into a problem that cannot be fixed on the spot, CAA will transport you and your bicycle to wherever you need to go. It's automatically available as part of your membership 24 hours a day, 7 days a week, 365 days a year.
If you have a Classic membership you are entitled to a 10KM tow, Plus and Premier members are entitled to a 200KM tow.
If you request to have the driver take you to Olympia Cycle and Ski at 326 St. Mary's Road that will be a free tow, as they are one of our many CAA Rewards partners!
For Bike Assist in Winnipeg call 204-262-6111.