Focus and concentration are the keys to driving safely.
Distractions can divert your attention from where it's needed most - the road.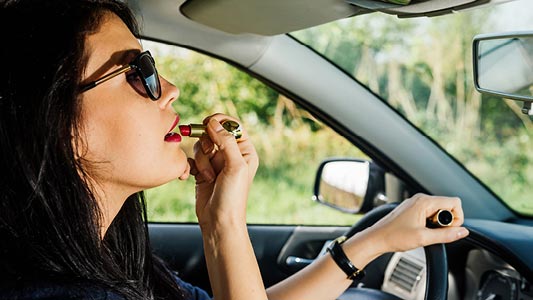 Distracted driving law in Manitoba.
It's illegal to use a hand-held electronic device while driving.
As of November 1, 2018, a first-time violation of the law results in a three-day licence suspension. Subsequent offences within 10 years net a seven-day licence suspension. At the end of the suspension, drivers must pay a $50 fee to get their licence back. Convicted drivers must also pay a $672 fine and receive five demerits on the Driver Safety Rating Scale.
Distracted driving laws in Canada.
All provinces and territories (except Nunavut) in Canada have distracted driving legislation in place.
Impact of distracted driving.
Distracted driving takes your eyes, and mind, off the road. Here are some surprising statistics on distracted driving:
Drivers who text are 23 times more likely to be involved in a crash or near crash compared to non-distracted drivers.
Canadians say that texting while driving is one of the biggest threats to their personal safety on the road.
33% of Canadians admit they have texted while stopped at a red light, despite believe it is unacceptable.
Distracted driving collisions in Manitoba increased to 15,000 in 2017 from 2,415 in 2011.
Tips to reduce distractions while driving.
Distractions both inside and outside of your vehicle can draw your focus away from the road. Learn what these distractions are and how to avoid them while driving.
While you're driving:
Stop at a safe location to make phone calls.
Keep two hands on the wheel for better control.
Avoid grooming.
Allow phone calls to go to voicemail.
Don't text, surf the web or read emails.
Avoid eating, drinking or smoking.
Keep your eyes and mind on the road.
Be aware of pedestrians, cyclists and other drivers.
Before you drive:
Secure pets properly.
Pre-set the climate control and radio.
Pre-program your route on GPS.
Stow and secure loose objects.
Prepare children with everything they need.
Allow plenty of travel time.
Review maps and directions.
Turn off mobile devices.
In-vehicle distractions could be:
Passengers and conversations.
Unsecured pets in the car.
Mobile devices.
Listening to music too loudly.
Locating addresses and setting GPS.
Smoking while driving.
Personal grooming.
Eating and drinking.
Adjusting vehicle controls.
Out-of-vehicle distractions could be:
Collision sites and emergency vehicles.
Other driver behaviour and actions.
Advertising.
Construction sites and road maintenance crews.
Street noise.
Scenery and wildlife.