School Zone Safety
We work collaboratively in communities across the province to make our school zones and neighbourhoods safer.
School zone safety tips for the community.
Whether we drive, cycle or walk, we all play a part in making our neighbourhoods safer by practicing proper road behaviours.
Driving.
As a parent or guardian, you're a role model for your children through your actions behind the wheel.
Be cautious and avoid:
Double parking or stopping on crosswalks, which can block pedestrians' visibility.
Stopping on the opposite side of the street, requiring children to cross through traffic.
Driving up alongside, or blocking, a school bus to keep children from missing it.
Stopping in moving traffic, requiring children to rush out.
To help maximize safety:
Comply with the speed limit in school zones and signal your intentions.
Watch for CAA School Safety Patrollers at intersections and crosswalks.
Work with school officials to designate specific car pick-up/drop-off locations and staggered times for walkers and riders.
Choose a designated pick-up/drop-off spot near the school that is safe and easily accessible for your child.
Form a carpool to reduce the number of cars in school zones.
When you see a stopped school bus with flashing red lights, you must stop, regardless of the direction you're travelling.*
Don't move until the red lights stop flashing and the bus begins to move or risk a fine and losing demerit points.
*The only exception is on roads separated by a median. The traffic coming from the opposite direction is not required to stop.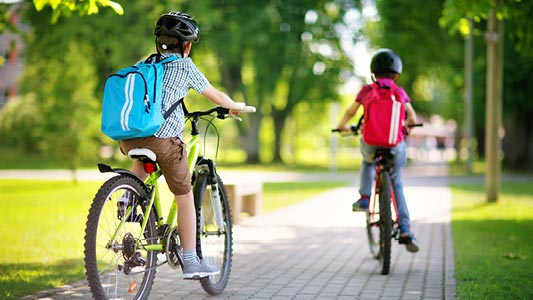 Cycling.
Biking is excellent exercise and an environmentally friendly way to travel. Educate your child about proper bike safety if they're going to be riding to school.
Teach them the rules of the road to make sure they stay safe or enroll them in a cycling safety course to learn cycling safety fundamentals.
Provide them with the right bike safety equipment, including a properly fitted bike helmet.
Instruct them on how maintain their bike so mechanical issues don't slow them down.
Show them the route to their destination and ask them to take you on a test ride to demonstrate they know the way and rules of the road.
Visit our partners at Bike Winnipeg for more cycling safety tips, or find cycling safety resources and courses at CanBike Canada.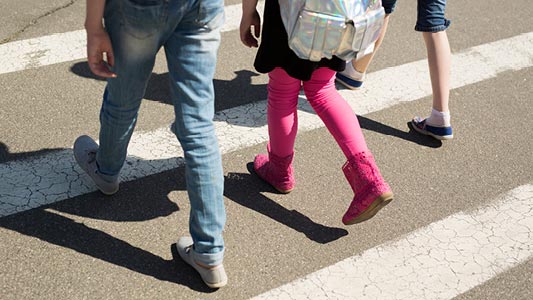 Walking.
Children mature at different rates, so it's up to a parent or guardian to decide when a child is ready to walk to school.
Stow electronics in backpacks so kids can focus on the road and their surroundings.
Show them the safest routes to take and discourage them from using short cuts or straying from the planned route.
Have them buddy up for the walk with an older sibling, friend or group.