CAA Rewards®
Save money on everyday purchases! Your CAA Membership is the key to exclusive deals from your favourite restaurants, retailers, hotels and more.
Learn More
Save with CAA Rewards® Partners
Look for special offers and limited time discounts each month and stay up to date on the newest CAA Rewards® partners!
Learn More
Membership is Rewarding
Your CAA Membership unlocks thousands of discounts on everyday purchases.
Whether you're taking the family out for dinner and a movie, looking for the latest gadgets, stocking up on pet supplies, or hunting for the perfect birthday gift, we've got you covered. Shop online at our eStore or show your card at a wide variety of establishments, attractions, retailers and merchants in Manitoba, throughout North America and around the world!
Shop. Save. Earn.
Shop online or in-store at hundreds of retailers. Save up to 50% on everyday purchases. Earn CAA Dollars® at participating partners!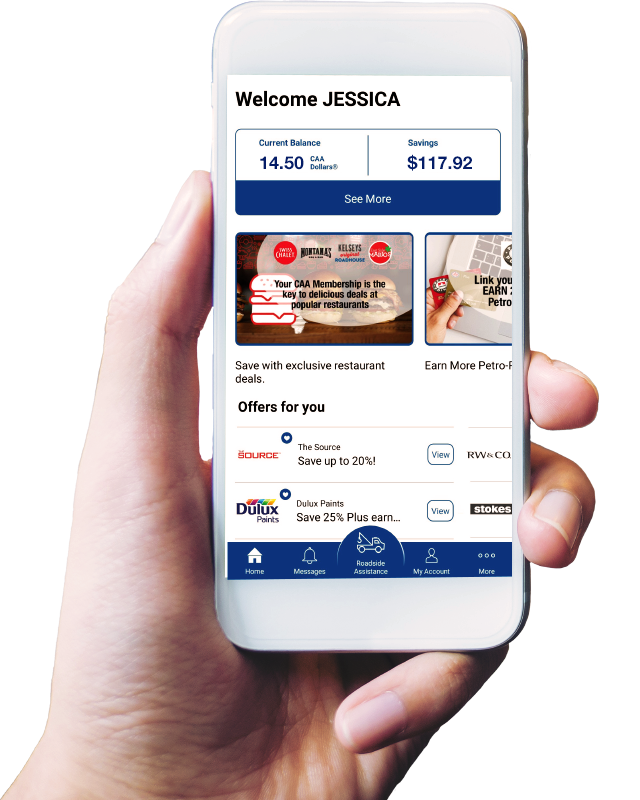 Want to unlock the full power of your CAA Membership?
Download the CAA Mobile App™ and get access to over 200 Member-exclusive deals while you're on the go. Track your savings on apparel, restaurants, the latest tech and more. Plus, request roadside service directly from the app.
Available for iPhone and Android.
Learn More
Learn More About CAA Rewards®!