Parkland
See iconic prairie giants and make your way into the wilds of the Parkland on this outdoor adventure.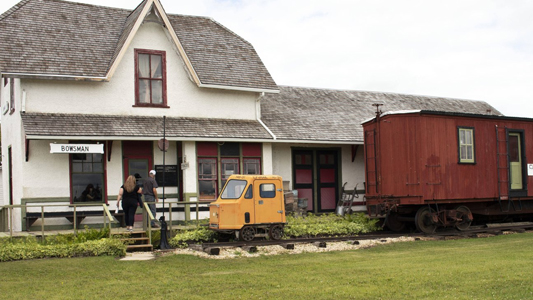 Things to Do
Arthur, an eight-foot tall bull statue welcomes everyone to Russell, where you can take a self-guided walking tour and get to know the town's history. Mosey on over to 9 Finger Ranch in Rossburn and saddle up to explore the area on horseback.
North of Russell is the Inglis Grain Elevators National Historic Site, where the last remaining row of standard country grain elevators still stand. Bring your mountain bike to ride the trails at Asessippi Ski Area & Resort.
Duck Mountain Provincial Park is home to birds, waterfowl and other wildlife. Lace up your hiking boots to take advantage of the variety of trails. Be rewarded with breathtaking views when you reach Manitoba's highest peak on Baldy Mountain.
Head north to Swan River to visit the Swan Valley Historical Museum and Heritage Village and see countless fern varieties on Rex Leach Museum Trail.
Location: Swan River Heritage Village | Photo credit: Travel Manitoba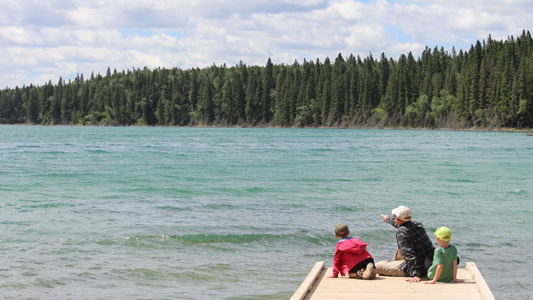 Where to Stay
Asessippi and Duck Mountain Provincial Parks both offer a number of camping options.
Hotels are also available including:
Location: East Blue Lake, Duck Mountain Provincial Park | Photo credit: Travel Manitoba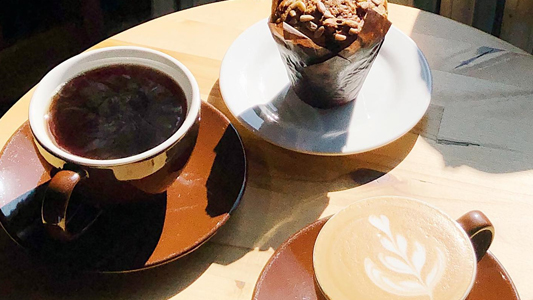 Places to Eat
Featuring specialty coffees and teas, Bin22 in Russell also serves up breakfast and delicious muffins. Tinhouse Designs & Coffee Co. offers a variety of fare, including sushi, pizza, soup and sandwiches.
Madoco in Swan River specializes in French cuisine, steak and seafood. For more casual fare, check out Y Not Johnny's for pizza, wings and salads.
Location: Bin22, Russell | Photo credit: Travel Manitoba
This map showcases our suggested route to explore Parkland. You can also change your starting point and destination to accommodate where you're travelling from and other sites you may want to explore along the way.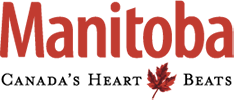 We're proud to partner with Travel Manitoba to help you discover the beauty of our province. Visit Travel Manitoba to find out more about this road trip plus many others.
While You're There
Here are some of CAA's favourite stops on this trip.
9 Finger Ranch, Rossburn
Photo credit: Travel Manitoba
Copernicus Trail, Duck Mountain Provincial Park
Photo credit: Travel Manitoba
Inglis Elevators
Photo credit: Enviro Foto/Travel Manitoba
Rex Leach Museum Trail, Swan River
Photo credit: Travel Manitoba
Before You Go
Stock up on road trip essentials online or in-store with CAA.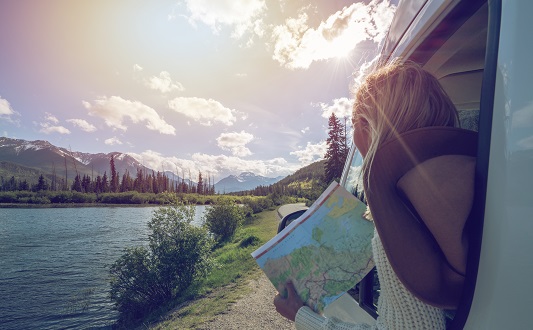 TripTiks
Map out your own route with key points of interest and attractions with the online TripTik® Travel Planner.

Call us
Mon to Fri: 10:00 a.m. to 5:00 p.m.Sat: 10:00 a.m. to 4:00 p.m.

Chat in person
Come visit us at your closest CAA Store. To avoid long wait times, we encourage you to book an appointment prior to visiting us by calling your preferred store.

Find a travel consultant
Select any of our travel consultants to help plan your next vacation.